MAY 2016 – We all love our pets, and we want to ensure that they have fun, functional, and safe places to run and play. In warmer climates, like we have here in sunny San Diego, pet owners have the added challenge of providing shade, shelter, and water in order to keep everyone safe. Our furry friends need space, but we humans still want to enjoy attractive landscapes and clean, orderly environments. Here are six simple steps to follow when planning a pet-friendly outdoor living space.
1. Think carefully about WHERE you're building your pet's play area. (Remember: Location, location, location!)
When considering where to install a pet-friendly area, it's important to first consider the type of housing at the location:
Single Family Home:
Consider a dog run in a side yard, or create a designated play area in a part of the backyard close enough to keep them in sight, but far enough to give you some peace and quiet. With thoughtful placement, you can give them room to run, while still making sure they're visible from within your home or from decks or porches.
Apartment/Condominium Community:
Ask current residents for input. If there are no designated pet areas already, where do residents typically take pets to play? Where do they walk them? Consider having one main play area, and smaller "doggie stations" throughout the community.
2. Re-think turf.
Often, a big green lawn is our first choice when planning pet play areas. But once installed, we quickly find out it's harder to maintain than we originally thought. We think, "Why does the grass keep dying in certain areas? Why are there 'yellow' spots everywhere?" (Did you catch the hint? The dogs are "applying" something yellow to the grass. Turf and dog urine do not play nice.)
Dogs have high-protein diets and as their bodies breakdown their food, these proteins are converted into nitrogen, which is expelled in their urine. In fact, dog urine contains so much nitrogen that it creates a burning effect, causing turf to die. You'd get the same result if you applied a fertilizer containing high levels of nitrogen in one spot.
As we all know, dogs urinate or spray where other dogs have been to "mark their spot" (literally). This repeated "application" results in damaged turf in specific areas. Typically, in an apartment or condo complex, you can find this "spotting" effect happening along walkways.
If your grass looks like this, consider replacing it with some of the pet-friendly hardscape and plant materials discussed below.
3. Make it easy to clean up. Install a hardworking hardscape.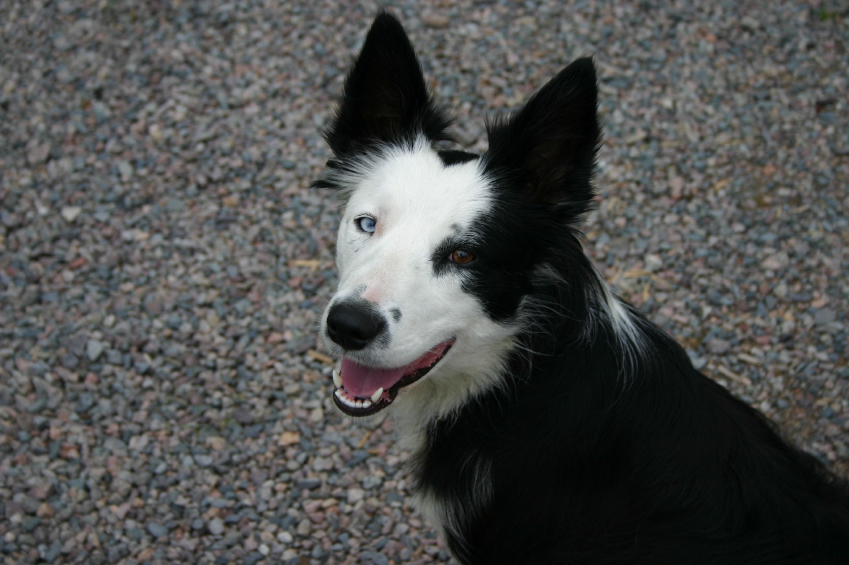 It's inevitable. We have to clean up after our pets. Designing a hardscape that makes it easy to address messes quickly can be the key to an attractive and well maintained pet-friendly area. When selecting a hardscape material, consider using a light color to make it easy to spot areas needing clean-up. Here are three hardscape materials that work well in this type of application:
Decomposed Granite (DG) is similar to gravel, but has a finer texture, and is generally more stable. This natural material comes in many colors, including shades of brown or beige, gray, black, red, and green. It's versatile, permeable, and relatively inexpensive. When installed, it can be stabilized with a sealer, which binds the DG together to create a long-lasting hardscape.
Mulch can be a great solution when used in combination with Decomposed Granite. DG can be used to create a walkway, and mulch can fill in the main play area for pets. When using mulch, we recommend not using brown, since dog feces can easily get lost.
Pea Gravel is a great selection for its smooth surface and drainage properties. It's comfortable enough for pets to walk on, and works well in high-traffic "potty" areas.
4. Remember to pick pet-friendly plants.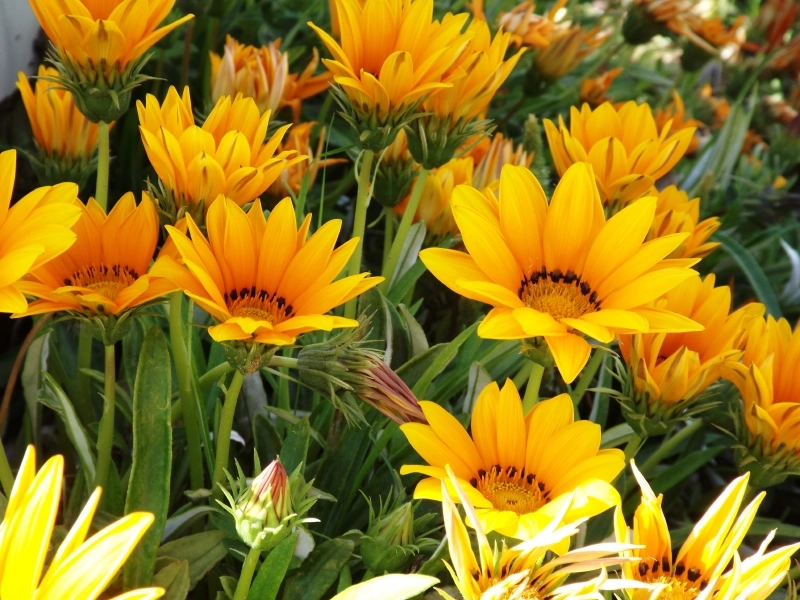 It's important to consider plant selection when designing your pet-friendly landscape. Make sure all plants and grasses are non-toxic and can withstand the amount of pet and people traffic you're expecting to get. Here are a few pet-safe plants that add color and interest to pet-friendly areas:
Dymondia is a drought-tolerant low ground cover in the daisy family that comes from the Western Cape of South Africa. It's kid and pet friendly, is easy to walk through, and can be used as a replacement for turf. It works well between pavers or in cobble-stone pathways, and can withstanding high traffic. It thrives in full sun and can tolerate partial shade. It's dainty daisy-like flowers provide seasonal color while variegated leaves provide an attractive year-round display.
Gazania, another drought-tolerant native species originating from South Africa, and also a member of the aster or daisy family, typically grows 6-8 inches in height, and is great for ground cover. The plant's vivid variegated yellow and orange flowers bloom over a long period of time beginning in spring and lasting into fall.
Creeping Red Fescue is a species of grass that's a great substitute for traditional manicured lawns. It's drought tolerant, and can be used on sloped areas. It creates a meadow look, without having to be mowed as often as other turf grasses. Your pets will love rolling around in it.
5. Plan for safety and comfort.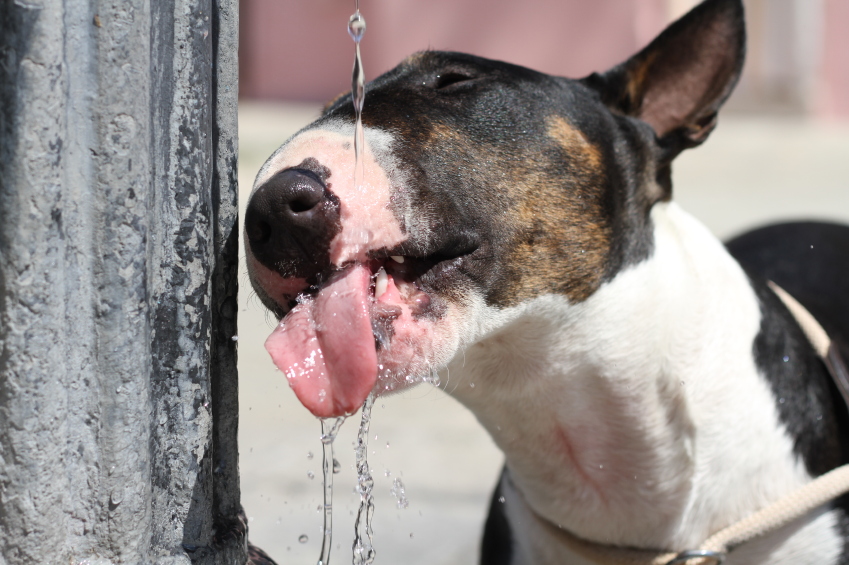 Create some shade. Summer months in San Diego (and many other warm climates) can get dangerously hot for our furry friends. Consider installing (or designing your pet play area around) a central tree to provide shade. When selecting the right tree, consider how the area will affect its growth, making sure nothing obstructs or damages the limbs or root system as it matures.
Provide a watering station. Pooches at play get might thirsty. Give them a way to re-hydrate by installing something as simple as a hose bib for filling water bowls, or a low water fountain.
6. Speaking of comfort… don't forget about you! Take a seat and relax!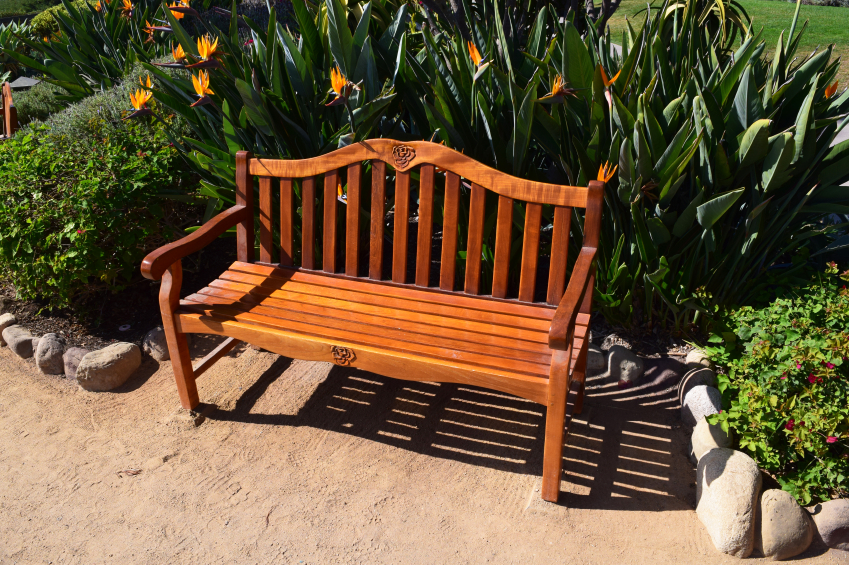 When designing your pet-friendly landscape, it's important to remember that you will interact with and enjoy the space too… and time with your pet should include a little bit of rest and relaxation. Make sure to create some seating within or surrounding the play area for you and other visitors.
A bench around a mature tree can provide shade for you while you watch your pets play. A traditional park bench can be placed in or near the pet play area, and can easily create a cohesive look and feel when used throughout a community. For a more natural, sophisticated look, benches made from stone or rough-hewn timber or logs are also a good choice.
The Takeaway:
It's not as hard as you may think to create an easy-to-maintain pet-friendly landscape. Use our six steps to ensure your pet's safety and comfort… and your peace of mind. Before you know it, you'll be sitting pretty, and they'll be having a rollicking good time.